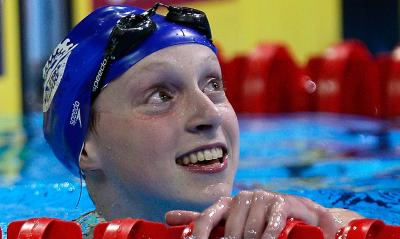 Katie Ledecky
From Wikipedia, the
free
encyclopedia
Kathleen Genevieve Ledecky (born March 17, 1997) is an American swimmer who specializes in freestyle events. She is a member of the 2012 United States Olympic team and will compete in the 800-meter freestyle event at the 2012 Summer Olympics in London.
[edit]
Personal life
Ledecky was born in 1997, the daughter of David and Mary Gen Ledecky. Ledecky's mother swam collegiately for the University of New Mexico. Ledecky currently resides in Bethesda, Maryland, where she currently attends Stone Ridge School of the Sacred Heart and is a rising sophomore.[1]She trains with the Curl Burke Swim Club under coach Yuri Suguiyama. During the summers, she swims for Palisades Swim Team in Bethesda.
[edit]
2012 Summer Olympic Games
At the 2012 United States Olympic Trials in Omaha, Nebraska, the first major competition for her, Ledecky made the Olympic team for the first time by placing first in the 800-meter freestyle with a time of 8:19.78, which was over two seconds ahead of second-place finisher Kate Ziegler.[2] In Omaha, Ledecky also placed third in the 400-meter freestyle (4:05.00) and ninth in the 200-meter freestyle (1:58.66).[3][4] Her third-place finish in the 400-meter freestyle is the fastest time ever swum by a 15 to 16-year-old American, breaking the national age group record previously held byJanet Evans.[5] At 15 years old, she is the youngest member of the 2012 U.S. Olympic Team, including athletes from all sports.[6]
[edit]
Personal bests (long course)
As of July 4, 2012
.
| Event | Time | Venue | Date |
| --- | --- | --- | --- |
| 200 m freestyle | 1:58.66 | Omaha | June 27, 2012 |
| 400 m freestyle | 4:05.00 | Omaha | June 26, 2012 |
| 800 m freestyle | 8:19.78 | Omaha | July 1, 2012 |
[edit]
References